Sale!
$2,499.00
Get an intense, full-body workout on the ProForm® SMART HIIT Trainer Pro. Along with SMART coaching technology (subscription required) that brings personalized, 

guided training, this revolutionary machine combines a smooth 10-inch vertical elliptical path with powerful upper-body movements to simulate stepping while boxing, getting your body sweating and burning calories throughout your workout and beyond. 
In stock
SMART HIIT Trainer Pro
The Ultimate Cardio Workout.
Inside Your Home.
Strengthen More Muscles. Burn More Calories.
Step up to new heights on the SMART HIIT Trainer Pro. Combining the movement of climbing stairs with the intensity of boxing, each workout helps you activate more muscles throughout your whole body while burning more calories.
What is HIIT?
HIIT, or High-Intensity Interval Training, is a training technique that involves repetitively giving 100% effort for a set amount of time followed by short recovery periods. You'll get and keep your heart rate up, burning more calories, and building strength throughout your workout.
---
Your Full-Body Workout
in One, Single Movement
Activate More Muscles
Combining a 10-inch vertical elliptical stepping path with powerful, upper-body punching actions, the SMART HIIT Trainer Pro simulates stair climbing and boxing, allowing you to activate your calves, hamstrings, quads, glutes, biceps, and triceps—all in a single movement.
Intense 10" Vertical Climbing Path
Unlike other stepper machines, the SMART HIIT Trainer Pro is designed for your feet to travel on a 10-inch vertical and 5-inch horizontal elliptical path. This motion puts you on track to burning more calories and building more strength.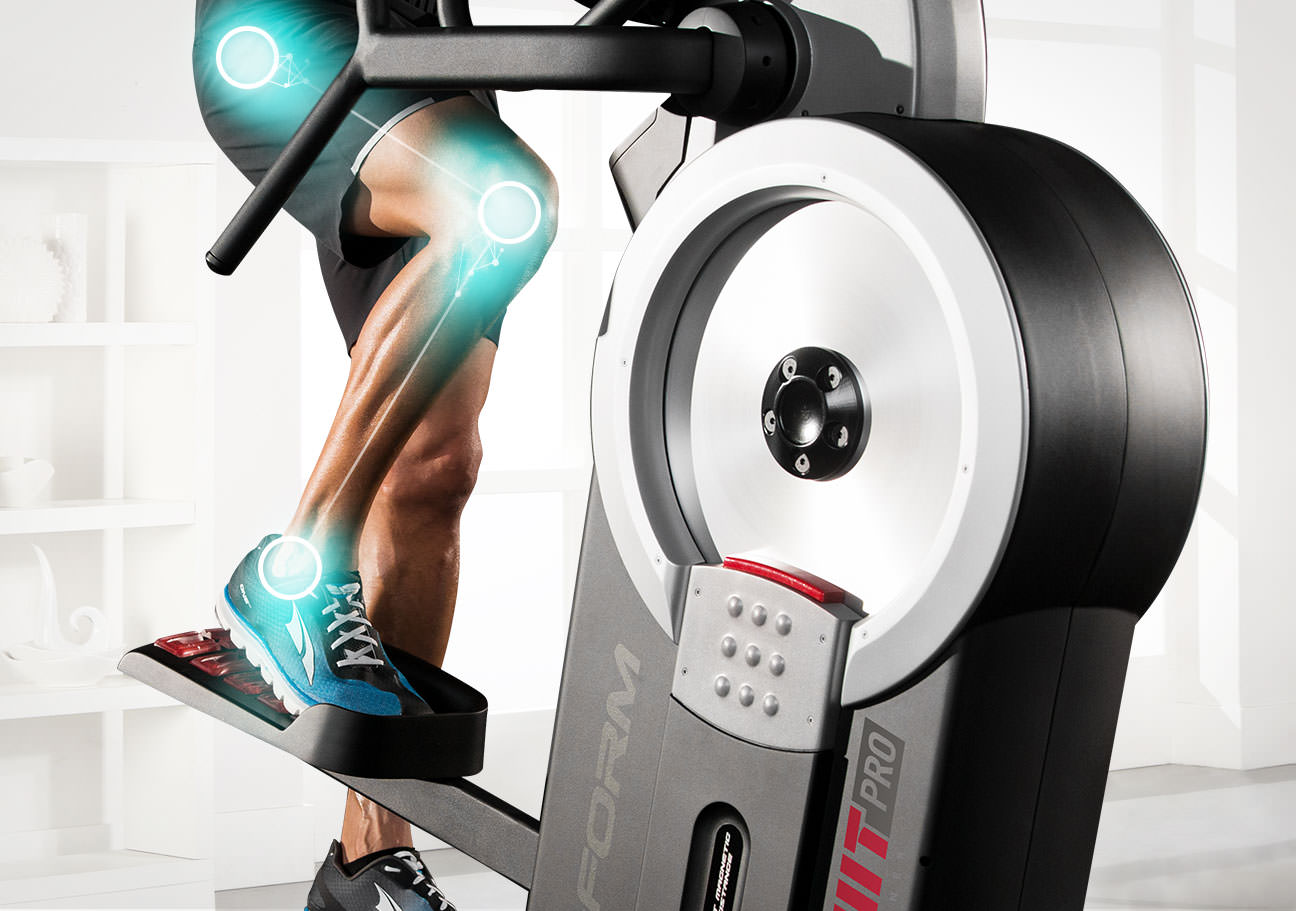 Smooth Moving
Put your joints at ease while in the middle of a challenging workout. With the SMART HIIT Trainer Pro, your feet never leave the pedals, giving you a zero-impact experience to help reduce stress on your joints and back.
---
Your Silent Workout Partner
SMR™ Silent Magnetic Resistance
Forget noisy air resistance trainers. The SMART HIIT Trainer Pro brings you SMR™ Silent Magnetic Resistance. It's quiet, smooth, and durable so you can focus on your workout—without disturbing your home.
Perfect for the Home: Take Up Less Space
One of the biggest concerns people have about in-home fitness equipment is the amount of space it takes up. The SMART HIIT Trainer Pro resolves those concerns. The compact footprint takes up half the space of a normal elliptical exercise machine, leaving you with room to roam.
---
Discover Trainer-Led Workouts From All Around the World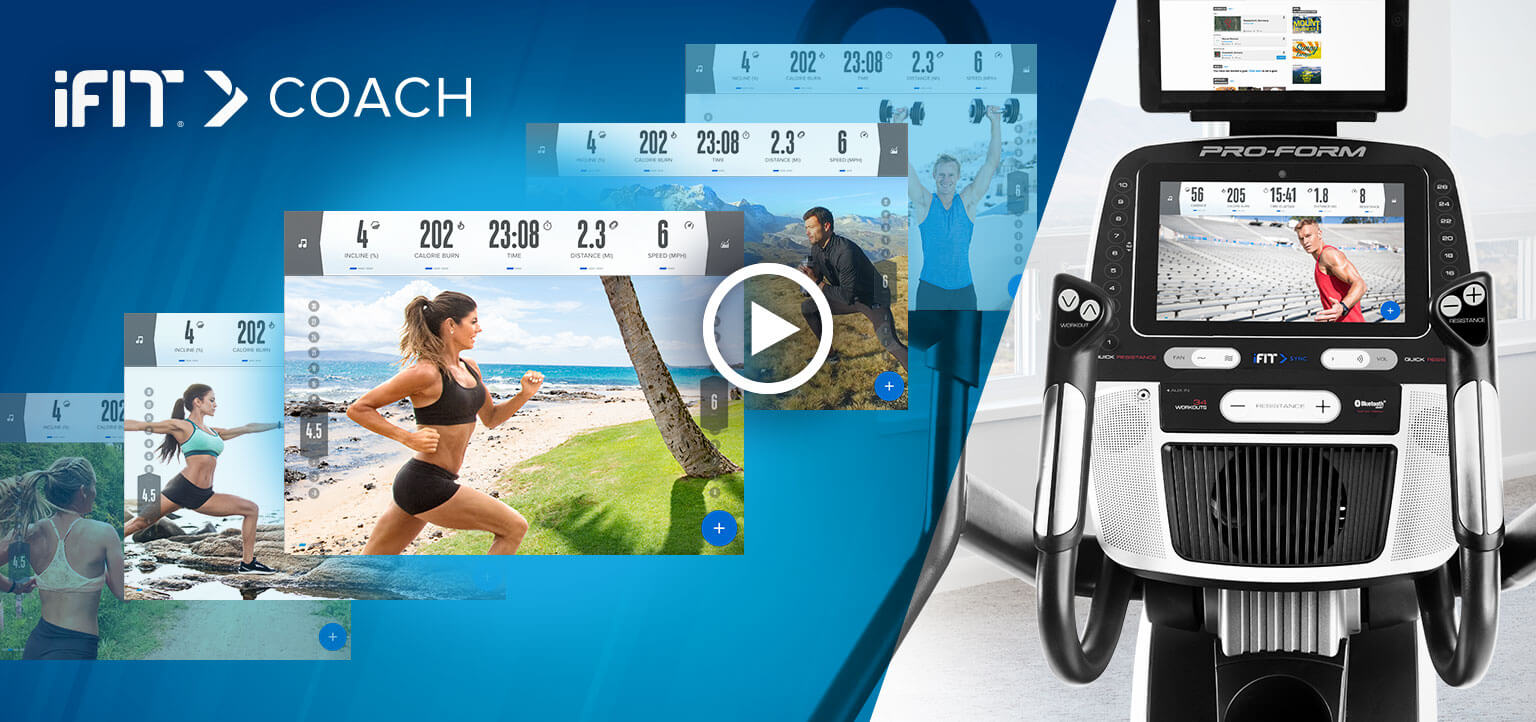 Engage in a whole new fitness experience as certified personal trainers take your exercise all around the world. ProForm® SMART equipment, like the SMART HIIT Trainer Pro, with membership to iFit® Coach, giving you full access to an expansive collection of worldwide workouts that will get you moving and sweating on and off your machine.
*iFit® wireless technology built in—no module required. Access your iFit® Coach account from your Enabled exercise equipment, computer, tablet, or smartphone. Annual membership fee required, sold separately.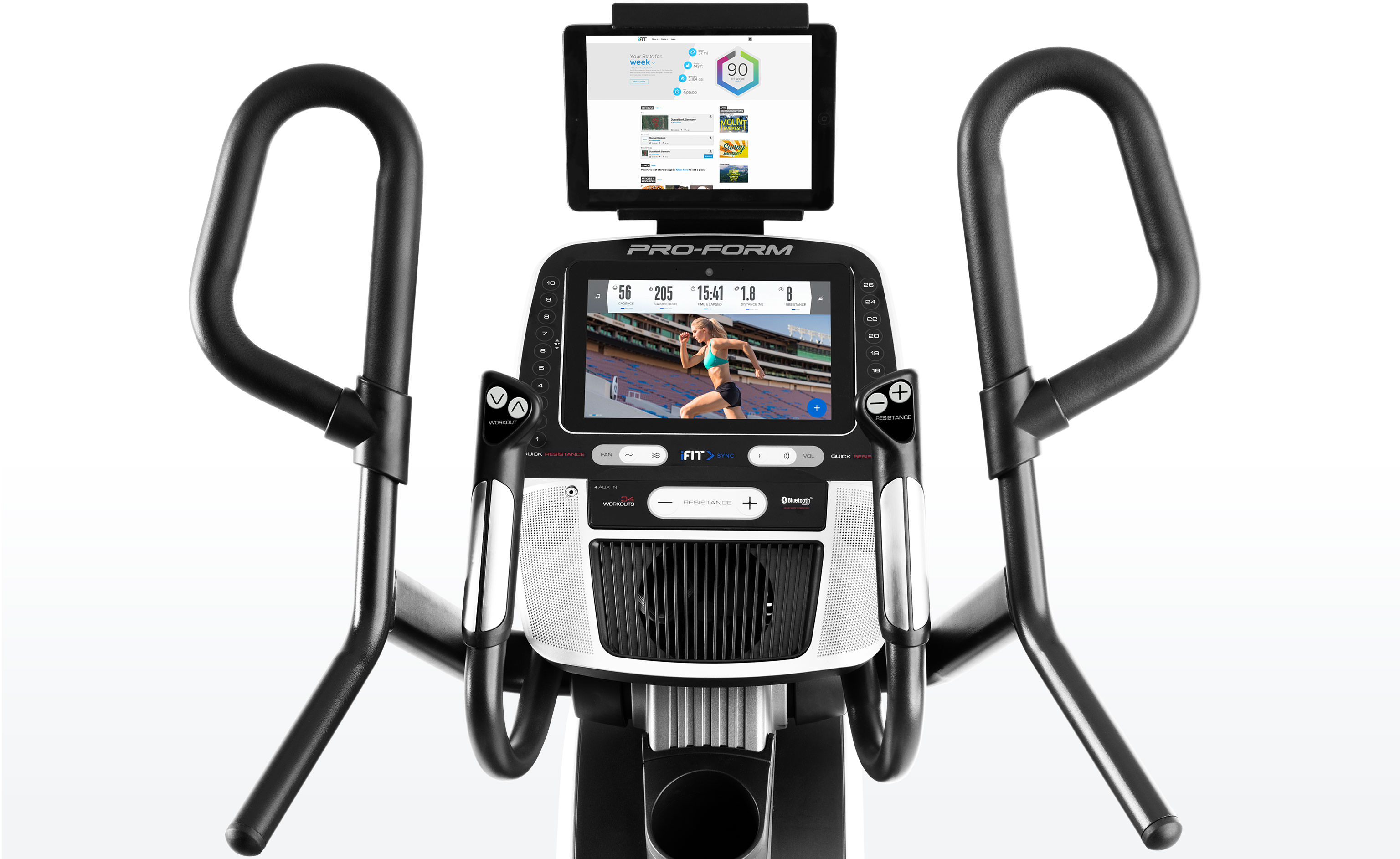 A Smart Console Made to Perform
Experience cutting-edge convenience at your fingertips. Ten inches of high-definition touchscreen technology beautifully displays your workout stats, programs, and entertainment. Large, easy-to-press buttons make it simple to change your resistance level in an instant. Control your workout effortlessly by managing your audio, fan, workout programs, and much more.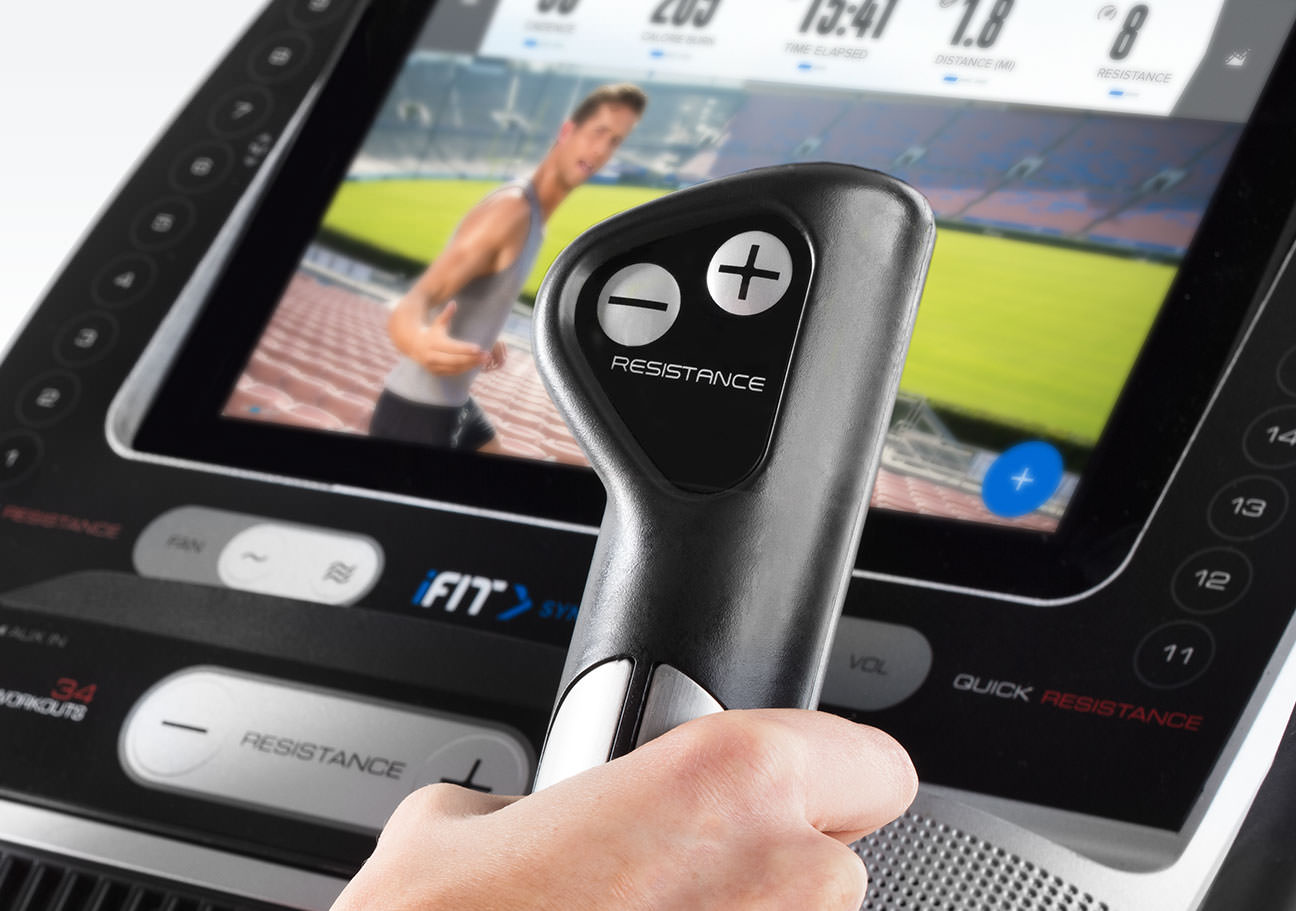 Precision Training
Build the strength you need without the hassle. The SMART HIIT Trainer Pro comes equipped with precise Quick Touch™ controls. Instantly change your resistance level at the touch of a single button.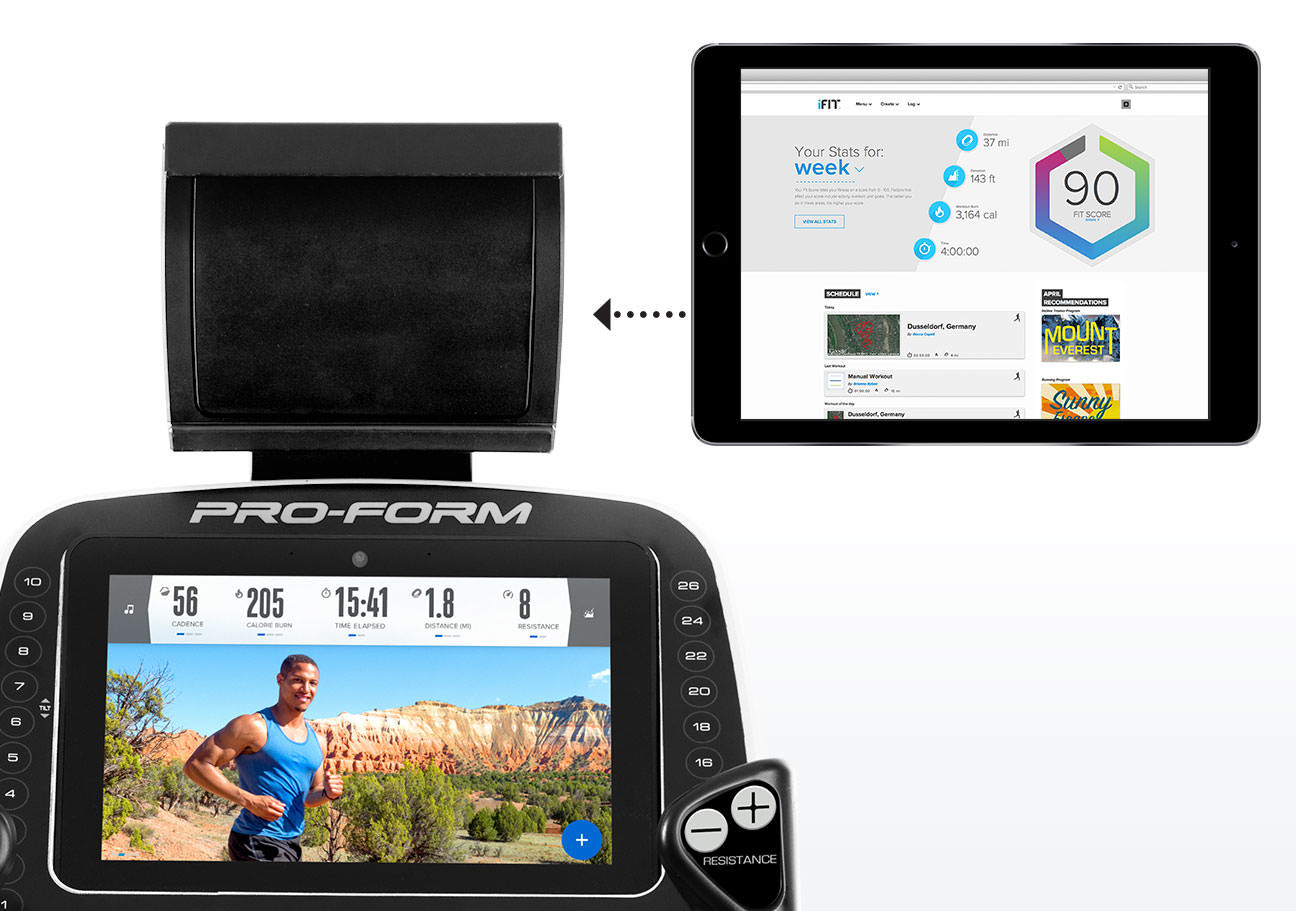 Tracking Meets Entertainment
Nothing says "me time" like enjoying your favorite website or YouTube videos as you work out. Our built-in, full-color, 10" smart HD touchscreen display connects you to what you care about most. And for even more multi-tasking, you can add your own tablet to the attached tablet holder.
---
Technology

:
10" Smart HD Touchscreen
Entertainment Your Way
Our built-in full-color touchscreen display connects you to what you care about most. It's easy to check up on your workout stats as you go, too.
Swipe through your speed, time, distance, calories burned**, heart rate***, and incline/decline stats. Now you can watch your fitness all in the same place.
**Calories burned is an approximation. 
***There are certain instances that can hinder an accurate heart rate reading, including your physical characteristics, the type and intensity of your activity.
34 Workout Apps
It's Like Having a Personal Trainer in Your Living Room
When you step on the pedals of the SMART HIIT Trainer Pro, you get instant access to professional training programs fully loaded and ready to go. Now you can enjoy a challenging workout focused on your goals. Just press "Start" and you're off.
EKG Grip Pulse Heart Rate Sensor with Included Chest Strap
Instant Heart Rate Readings for Performance Training
Make the most out of every workout by monitoring your heart rate with the built-in handlebar sensors. They will ensure you are in the right training zone for your goals. If your style is hands-free, the included wireless chest strap is a comfortable solution that accurately transmits your heart rate information to the console for easy viewing.
Engineering:
Multi-Function Handlebars
Adding Upper-Body Makes for a Full-Body Workout
Our workout arms take your fitness from the straightforward lower-body workout of the treadmill to the total-body elliptical experience. By adding resistance and movement to the upper-body, you challenge your arms, shoulders, back, and core with each step.
10" Vertical, 5" Horizontal
Climb Higher for a Better Burn
Unlike other stepper machines, the SMART HIIT Trainer is designed for your feet to travel on a 10-inch vertical and 5-inch horizontal elliptical path. This motion puts you on track to burning more calories and building more strength.
30 Lb. Effective Inertia-Enhanced Flywheel
Smooth Moving
Experience a smooth, steady pedal stroke with a flywheel that's made to perform. A faster gear ratio and effective weight placement deliver a more natural striding experience.
Oversized, Cushioned Pedals
Step with Comfortable Confidence
These large pedals allow you a number of foot positions and provide important stability as you exercise.
26 Resistance Levels
Push Yourself at Your Own Pace
With 26 digital resistance levels, the SMART HIIT Trainer allows you to start out easy and progress to intense. Each level is smooth, frictionless, and silent with our patented SMR™ Silent Magnetic Resistance.
Comfort:
Integrated Tablet Holder
Secure Your Entertainment
Turn fitness time into multi-tasking time. This device shelf keeps your tablet secure and conveniently close so you have access to all your training tools and entertainment must-haves.
iPod®-Compatible Audio
Sound for the Stepping
Move to the beat of your favorite music with this built-in sound system. Plug your iPod®* into the Intermix Acoustics™ Sound System and rock out with your favorite power music through dual 2" speakers.
iPod® is a trademark of Apple, Inc., registered in the U.S. and other countries. iPod® not included.
CoolAire™ Workout Fan
Feel the Breeze
Keep cool with this built-in fan that features two speed settings. Quick console controls allow you to adjust the speed at any time.
Water Bottle Holder
Drink in the Success
Stay hydrated throughout your workout by keeping your water bottle close. This convenient water bottle holder is built-in to the elliptical for easy access.
Front-Mounted Transport Wheels
Precision Placement
Moving the SMART HIIT Trainer Pro out of the way is fast and easy with the front-mounted wheels.
Oversized Leveling Feet
This Machine Holds Its Ground
Keep your equipment stable, even if it's on an uneven surface, with the simple and adjustable, oversized leveling feet.
Additional:
Commercial-Gauge Steel Construction
In It for the Long Haul
Made from commercial-gauge solid steel, the SMART HIIT Trainer Pro is built to last through your hardest workout sessions.
350 Lb. Weight Capacity
This machine accommodates up to 350 pounds.
66.7″ Deep x 29.25″ Wide x 52″ Tall
Lifetime Frame, 5-Year Parts, and 2-Year Labor Warranty
Your Investment, Protected
The ProForm® SMART HIIT Trainer Pro is protected with a Lifetime Frame Warranty, 5-Year Parts Warranty, and 2-Year Labor Warranty. Please note: Lifetime Warranty pertains to the lifetime of the original purchaser.
---